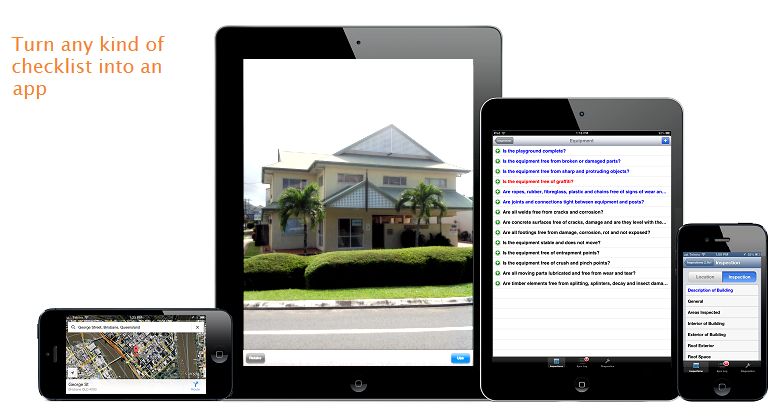 With over 25 billion app downloads, with millions of different uses, it is certainly a cluttered marketplace.
Inspection Apps, a Multi-Award Winning product, has taken a small step to simplifying this cluttered marketplace by creating one app that can be used for multiple checklist inspections across countless industries. Inspection Apps is the mothership of apps, that provides a software solution for Business, Government, Councils, Real Estate, Building Inspectors, Mining, OH&S inspectors, and so many more.
Traditionally, a business that is seeking an app (and database combination) from a developer for a specific purpose will pay upwards of $50,000, and it will cost many months of development time.
With Inspection apps, each customer gets:
A workflow optimised, business-rule-savvy, iPhone/iPad app with any number of Inspection types, and
A nimble, Cloud-based Software-as-a-Service (SaaS) Web Application to store inspection data, photographs and produce PDF reports, that is customisable to any report template style.
The product is a fully customised, fully developed software solution, for a couple of dollars per inspection, and delivered within a few days.
The Cloud-Based SaaS manages inspections and client data, with full document management and email functionality. It is the intelligent SQL-based SaaS Solution that drives the app and provides a complete business solution.
Businesses achieve measurable labour cost savings and fast turnaround times, every time. Use of a mobile device simplifies information collection, and provides automatic, wireless uploading. The combined SaaS solution and app increases productivity and guarantees consistent quality. A PDF report, with embedded photos, can be produced in under 10 seconds!
This product is available as an IT Platform on a Business-to-Business basis or a Business-to-Government basis, delivered through the private sector. The Technology is Patent Pending. To our knowledge, and following extensive searching, this product is a world-first design.
Inspection Apps is the answer.